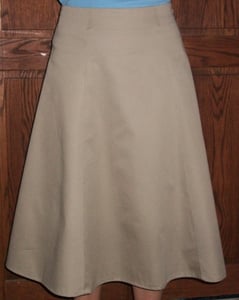 $

45.99
This durable skirt is crafted from our six-gored skirt pattern and 100% cotton twill-weave fabric for nice drape and excellent durabiltiy. A year-round classic, this skirt is one you can walk in, work in, run in, and play in, all thanks to the sufficient amount of flare. It is durable and goes with almost any top while adding color variety to your wardrobe. The waistline is finished with a facing and the skirt has a side zipper- no elastic. At 28" long it falls at mid calf. Emily says, "this one's almost double Emily approved!" Available in Denim upon request!
zips closed on left side; 28 inches long; other lengths available upon request; no pockets unless requested
Available in 100% Cotton Denim upon request!
For more cute items by Susan, visit www.cutethingsbysuzy.bigcartel.com